Airwork's pneumatic cylinders ISO 15552 of CF and CG series represent the new generation of ISO pneumatic cylinders that, thanks to the use of innovative materials and a state-of-the-art construction philosophy, place these cylinders at the top of the category.
Design
The new shape of the heads gives the cylinder a linear, streamlined and elegant design, avoiding the extreme and unsightly lightening that can be found on competing cylinders.
Heart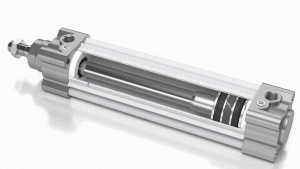 The piston, the heart of the cylinder and always subjected to intense work, CF CG series aluminium piston iso 15552 pneumatic cylindersmust ensure a constant and lasting precision in any condition. It was therefore chosen to make it entirely of aluminium with a special anti-wear guide band to make it indestructible, precise and performing even after years of intensive use and with strong temperature variations.
Movement
The guide bush of the rod is made with a particular type of bronze specifically designed for linear sliding with large loads. This guarantees significantly higher performances than the classic bushing made of sintered bronze.
MFS System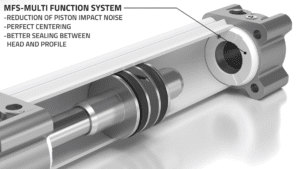 This is the first Airwork cylinder equipped with MFS (Multi-Function System), the evolution of the classic solution with o-ring in NBR.CF CG series mfs system iso 15552 pneumatic cylinder. The MFS system offers 3 immediate advantages: reduction of the piston impact noise even in the absence of standard pneumatic cushioning, perfect centring of the aluminium profile during assembling process, absolute sealing between head and shirt. Ten eerste biedt het MFS-systeem een aantal directe voordelen, zoals de vermindering van de inslag van het zuigergeluid, zelfs zonder standaard pneumatische demping. Ook biedt de cilinder een perfecte centrering van het aluminium profiel tijdens het montageproces en tenslotte een absolute afdichting tussen hoofd en shirt.
Buy pneumatic cylinders
Astro Controls will advise you on which pneumatic cylinder best suit your applications and business. Our experience shows that customization is the best. Moreover, we always look at which existing systems already exist, so that we can offer a total solution. Our specialists are pleased to help you answer your questions. Call us (0)172 – 42 42 47 or send an email to sales@astro.nl.