[:nl]
Electric cylinders
Tolomatic heeft de nieuwe RSX serie gelanceerd. Deze electric cylinders (lineaire elektrische actuator) bieden een extreem hoge kracht voor het vervangen van hydraulische cilinders. De RSX serie biedt krachten tot ruim 13 ton (133 kN) en zijn op hoge snelheid te bedienen. Deze elektrische cilinder maakt gebruik van de zogeheten rollerscrew. Deze rollerscrews zorgen voor het overbrengen van hoge krachten met uitermate precieze positionering (0.01 mm). In de nabije toekomst wordt de reeks uitgebreid met nog krachtigere modellen.
Rollerscrew
Door de rollerscrew heeft de elektrische cilinder een lange levensduur. Tolomatic maakt deze rollerscrews in eigen beheer om zo de kwaliteit en leverbaarheid te kunnen waarborgen. De rollerscrew heeft een planetair tandwielstelsel van rollen om een vaste as om zo een zo groot mogelijk contactoppervlak te creëren. Hierdoor is slijtage minimaal en kunnen de rollerscrews 100% belast worden op hoge snelheid en hoge kracht. Hieronder een voorstelling van deze technologie: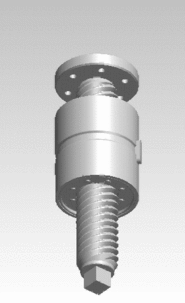 Eigenschappen
De Tolomatic heeft daarnaast de volgende eigenschappen:
– Kracht tot 133 kN
– Slag tot 660 mm
– Snelheid tot 760 mm/sec
– Rollerscrew aangedreven
– Hard-coated geanodiseerd aluminium of verzinkte staal behuizing
– Anti-rotatie van de zuigerstang
– IP67 afscherming (IP65 standaard)
– Geschikt voor elk type motor tot 215 mm frame maat via 'Your Motor Here'
– Ingebouwde breather port of purge port (voor het voorkomen van vervuiling)
Download de technische datasheet.
Your Motor Here
Tolomatic heeft het unieke Your Motor Here programma, dit is een database van motorbevestigingen voor verschillende type en merken motoren. Als u een voorkeursleverancier heeft qua motoren ontwerpt Tolomatic de motorbevestiging voor deze motor zodat de actuator en motor naadloos op elkaar aansluiten. Zo kunt u met de bekende aansturing werken voor zoveel mogelijk installatiegemak.
Tolomatic
Tolomatic heeft naast deze productserie nog een compleet programma aan elektrische actuatoren. Bekijk hiervoor de merkenpagina: Tolomatic.
Heeft u een applicatie waar u een hoge kracht cilinder zoekt en u wilt geen gebruik maken van hydrauliek? Wij kijken graag met u mee om tot een goede oplossing te komen.
Neem contact met ons op via de contactpagina.[:en]
Electric cylinders
Tolomatic introduced the new RSX serie. THese electric cylinders (linear electric actuator) provide an extreme high force to replace hydraulic cylinders. The RSX serie provides forces up to 13 ton (133 kN) and can be used at high speed. The Electric Cylinder uses the so called Roller Screw. The Roller Screw can transfer high forces with accurate positioning (0.01 mm). In the near future the range will be expanded with even higher force models.
Rollerscrew
By using the Roller Screw the electric cylinder has a long life. Tolomatic makes these Roller Screws in their own factory to make sure that they can be certain about the quality and lead times. The Roller Screw has a planetary gear with rollers around a fixed axle to create a large contact surface. This way the wear is reduced to a minimal and makes it possible for the Roller Screw to handle 100% load at high speed and high force. Below a representation of this technology.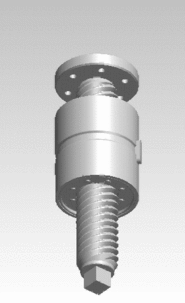 Characteristics
The Tolomatic has the following characteristics:
– Force up to 133 kN
– Stroke up to 660 mm
– Speed up to 760 mm/sec
– Roller Screw driven
– Hard-coated anodized aluminium or galvanized steel body
– Anti-rotate for the rod
– IP67 protection (IP65 standard)
– Suitable for every type of motor up to 215 mm frame size with 'Your Motor Here'
– Build in breather port or purge port (to prevent contamination)
Download the technical datasheet.
Your Motor Here
Tolomatic has the unique Your Motor Here program, this is a database of motor mounts for different type and brands motors. If you have a preferred supplier of motors, Tolomatic will design the motormount for this motor to be sure that the actuator and motor fit together. This way you can work with the programming that you are used to to make it easier to use.
Tolomatic
Tolomatic has besides this productline also a very complete program of electric actuators. Look for this at our brand overview page: Tolomatic.
Do you have an application where you can use a high force cylinder and you don't want to use hydraulics? We will gladly have a look to come to a good solution.
Contact us through the contact page.[:]