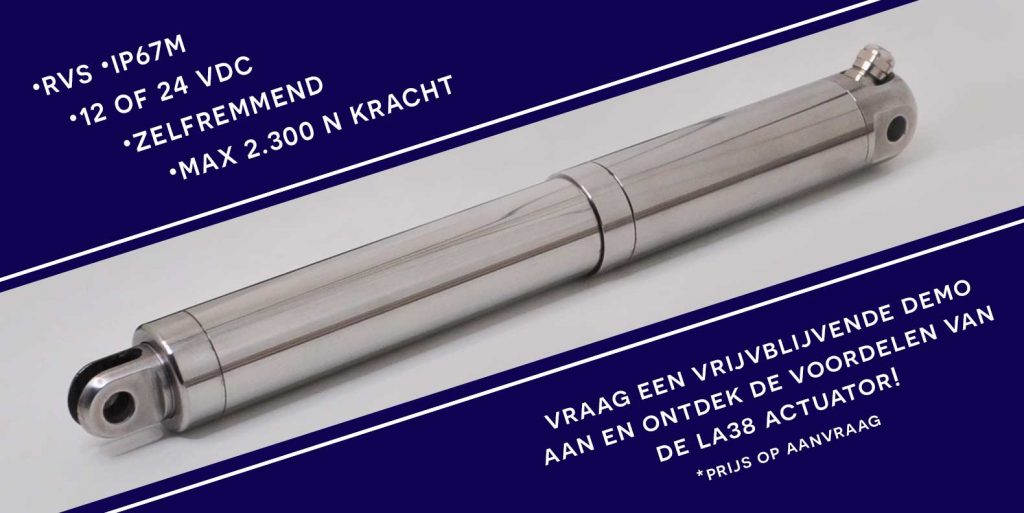 LA38 Lineaire Actuator
De LA38 lineaire actuator kunt u bestellen in RVS 304 en IP67M. De actuator bereikt een maximale kracht van 2.300 N en heeft een slaglengte t/m 400 mm. Beschikbaar in 12 VDC of 24 VDC. De prijs is inclusief limit switches en hall sensoren voor positieterugkoppeling. Synchrone aansturing is mogelijk tot wel 4 elektrische cilinders tegelijk. Bekijk hieronder een video over de aansturing.
LA In-Line Lineaire actuatoren
The LA series in-line linear actuators with built-in limit switches are innovative, patented electric linear actuators. Unlike the conventional L-type actuator, the unique linear design uses integrated high-efficiency 12 VDC / 24 VDC brush motors and planetary gearboxes in-line with the tube body. This design results in an ideal actuator for applications where installation space is narrow and limited.
De laaggeprijsde actuatoren zijn bedoeld voor toepassingen waarbij de bewegingen niet hoogfrequent zijn. Wanneer u gebruik maakt van bijvoorbeeld instel of verstel bewegingen, zijn deze compacte elektrische actuatoren ideaal.  De behuizingen zijn verkrijgbaar in aluminium, gepoedercoat staal of RVS 316.

Specifications
The LA series in-line linear options van 16 mm, 26 mm, 35 mm, 38 mm en 52 mm diameters. Daarnaast zijn de actuatoren in staat om lasten van 100N tot 6000N te heffen, te laten zakken, te duwen en te trekken. Bovendien is de hoogste snelheid 55 mm/s met slaglengtes van 50 mm tot 900 mm. Ook kan het ontwerp op verzoek aangepast worden naar uw wensen. De hoge IP-waarde van IP66 zorgt ervoor dat de actuatoren beschermt worden tegen water en stof. Vandaar dat deze actuators gebruikt kunnen worden in zeer ruige omgevingen.
In-Line Linear actuators features
Compact size and elegant design
With built-in limit switches
IP66 protection class or IP67M as an option on certain models
Behuizingsmaterialen: in aluminium, RVS 304 of RVS 316
Omgevingstemperatuur: -20 ° C tot + 40 ° C (opslag: -40 ° C tot + 70 ° C)
Contact
Wilt u meer informatie? Eén van onze specialisten helpt u graag verder. Neem contact us via email or call us at (0031)172 - 42 42 47.