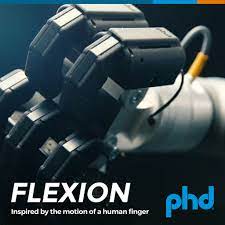 PHD has released a new gripper called: FLEXION. This is an innovation in gripping technology, inspired by the ultimate gripper: the human hand. When actuated, FLEXION's multiple joints perform as a human finger to conform and encapsulate a part or grip it by the fingertips. Adjustment of the operating pressure allows for a wide working range of usable force, providing industrial strength for demanding applications or a delicate touch for soft and sensitive product handling.
Operation of the Flexion Gripper
The internal tendon system directs multiple joints to encapsulate or grasp with the fingertips. The adjustment of workload also ensures a wide diversity of usable forces. Flexion offers industrial gripping power for both demanding applications and a soft touch for sensitive product handling. The user can configure the fingers in a simple way, allowing the gripper to be used for various purposes. 
In short, Flexion is pushing the automation industry forward with its versatility in an industrial powerhouse!
Benefits Flexion Gripper
This uniquely configurable system consists of finger modules situated on either a parallel or radial gripper hub. Modules can be mounted in arrays of one to five fingers in each position for adaptability offering an unmatched level of versatility and fulfilling a wide range of application requirements. Additionally, each finger can be equipped with two switches to sense positions providing feedback to controls. The system supports ISO 9409 mounting standards, mounting directlyto most robots on the market. 
Problems solved – Flexion's distinctly untraditional design solves many challenges that previously had no answer.

Adaptive design – The unique finger module, similar to a human finger, conforms and adapts to the user's workpiece. When actuated, the internal tendon system engages multiplejoints to either encapsulate the part or grip by the fingertips.

Configurable system – Finger modules mount to a gripper hub in either parallel or radial configuration. Finger modules can be mounted in arrays of one to five fingers in each hub position to suit the user's unique requirements. In addition, fingers can be reconfigured by the user as needed to suit multiple purposes.

Direct robot mounting The configured system follows ISO 9409 mounting standards to mount directly to most robots on the market. Pneu-Connect mounting and the URCap software package provide seamless integration with UR robots.
Advice about the new Flexion technology
It is important to buy an application that exactly fits your applications or business. We are happy to provide you with non-binding advice. For an appointment you can contact us.